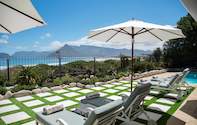 Last Word Long Beach is the perfect holiday escape, taking you to a world of breathtaking views and the ultimate in relaxation.
Magnificent scenery on your doorstep
Stay in one of the 6 luxurious suites
Visit some of the Cape's many features
Tasteful interiors, en-suite bathrooms and private gardens
The Last Word Long Beach is situated in the picturesque lobster-fishing village of Kommetjie on Long Beach providing luxury Cape accommodation within easy reach of the charming False Bay coastal suburbs and towns. This is an unspoiled paradise with 8 kilometres (5 miles) of golden white sand, so pristine that it alone will leave you breathless.
Experience the most elegantly carefree holiday escape imaginable at Long Beach's Cape accommodation. The beach is literally on your doorstep with spectacular uninterrupted views across the sea to Hout Bay and Table Mountain.
Your warm and friendly hosts at this Cape accommodation entertain very few guests, making you feel as if you are staying with good friends, providing a state-of-mind that opens you to new discoveries. You get the opportunities to see everything that you want to see while using Long Beach for your Cape accommodation.
Some of the five-star features of your Cape accommodation include a chauffeur service, 24-hour security and free drinks. Indulge in the serenity of a dream home away from home, while enjoying the beauty of the incredibly scenic southern Cape Peninsula.