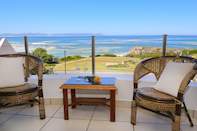 Misty Waves Hotel, Hermanus
Part of the Misty Collection; Misty Waves Hotel in Hermanus has to be one of most romantic of destinations. Being relatively close to Cape Town (120 km) we reached this costal town in the early evening with time to spare. On arrival, you immediately sense the intimacy and luxury that Misty Waves exudes.
Enthusiastic staff member Peter, pleasantly greeted and directed us into the secure undercover parking area. The entrance foyer is remarkable with its high ceilings and broad stairway leading down into a marble tiled area. Soothing music fills the air and you cannot help but notice an immaculate garden. A sense of peace and serenity subtly surrounds you.
Rooftop Jacuzzi with sea views
Estie kindly provided a tour of Misty Waves before showing us to our room. Without a doubt, our room was perfect. With exquisite décor, a view of the whale rich ocean: it's a truly romantic setting. The location of Misty Waves is ideal: within easy walking distance of the path wound cliffs for whale watching or to investigate a variety of restaurants in the small town.
We were shown their rooftop restaurant for which guests can book intimate candle lit dinners. A rooftop Jacuzzi boasts sea views and is privately available for bookings at a nominal fee. The safari lounge includes a well-stocked honesty bar and satellite television with a plethora of channels. In terms of facilities, you are spoilt for choice at Misty Waves.
Do not disturb (and they didn't)
Being family owned and operated, Misty Waves excels in their attention to detail. The printed welcome note personally addressed in our room reminded us of their commitment to service. A little later in the evening, room service staff knocked on our door with complimentary champagne, an ice bucket and chocolate.
I heard giggles as my partner answered the door wearing only her bath towel. We couldn't find a 'do not disturb' sign and when a call was made to Estie at reception, she promptly had one printed and put on the door. It's a romantic setting for the perfect weekend getaway.
Convalescent 'champagne air'
Our room was luxurious; television including some satellite channel access, a private balcony and that consistent interior design style which suggests Misty Waves is truly a boutique or intimate luxury hotel. The bathroom was well appointed with an enticingly large tub, modern shower and twin washbasins. A stocked bar fridge complete with prices compliments the optional room service. The impression you receive is that you're spoiling yourself yet it's within your means.
Their four-star rating awarded by the Tourism Council of South Africa is evidently well deserved. After the modern pace of Cape Town, the sense of calm and tranquility that exists in Hermanus draws you in and seduces you. In the early 1900's it became fashionable among Harley Street practitioners to prescribe a trip to Hermanus for it's healing, convalescent 'champagne air'.
We took a leisurely, romantic stroll along Marine Drive towards the Village. Hermanus was awarded the cleanest town in 2003 and they deserve to retain that status. A sense of safety and security follows you even during late night strolls. Before reaching your culinary preference, the smell of flame grilled chicken or oven fired pizza will entice you. Somehow Hermanus heightens your senses.
"They're black!"
During our stroll we heard a fine operatic voice close to an open-air restaurant. I said to myself; that can't be right; a young black African man was standing outside giving a startling operatic rendition. My partner had to convince me it wasn't music being piped from the restaurant but a live solo performance.
Hermanus boasts several of these operatic buskers - their fine voices adding a unique touch to the evening ambience. At one restaurant we passed two young male African singers, one I estimated to be fourteen years old. We couldn't contain our laughter when a white South African boy with a wide-eyed look said to us in astonishment and innocence "they're black!". It is unusual to hear what sounds like genuine Italian operatic pieces being performed by someone who may have been a street child in another setting. Somehow it adds to the magic of Hermanus and seems fitting, it is after all the new South Africa.
The world's only Whale Crier
A trip to Hermanus wouldn't be complete without a mention of the behemoth whales. We had missed the annual whale festival by a week but that didn't affect the whale watching as they arrive annually from June, peak in numbers during August through September and depart by December. They calf in August offering spectacular sightings.
The World Wildlife Fund rates Hermanus as one of the best land based whale-watching regions in the world.. Easily accessed cliffs and picturesque coastal settings testify to this accolade. Whale watching has been known to take place from as close as five metres.
Be on the look-out too for the world's only Whale Crier: Wilson Salukazana. Wilson patrols the streets blowing a kelp horn complete with different codes designating various sightings for a range of points on the coastline.
"Why do they do that?"
Southern Right Whales were very much in evidence. We saw them breach; as they lifted their entire bodies out of the water with immense, graceful leaps. The resulting splash is spectacular; you can't help but exclaim, "Why do they do that?" Scientists still don't entirely understand whale behavior although I'm convinced whales would never understand some of ours either, so it's a moot point.
Two of the big seven; whales and great white sharks
There are boat-based whale watching opportunities departing four times a day; weather permitting. Sea Kayaks are available and allow visitors to be relatively close to the whales. Great white shark tours to Dyer Island include cage diving and surface viewing. Hermanus includes superb dive sites with seals often accompanying divers.
Pristine beaches and lagoons provide access to water sports or hedonistic sun worship. The area is rich in surrounding wine estate culture and scenic walk routes. In keeping with their focus on hospitality, Misty Waves Hotel offers a chauffer service to both the popular Hermanus and Arabella Golf Courses.
Krug Grande Cuvée of Hermanus
We ate our last breakfast back at Misty Waves Hotel and agreed that the meal was a delight. The service deserves a mention - after eating at various restaurants in Hermanus, we noticed that Misty Waves particularly excels in terms of customer care. Their staff are young, well presented and professional. Caro Lerm provided us with useful Hermanus information and ensured we had the perfect weekend. You sense the amount of time and care that the family and staff of the Misty Collection have put into their properties.
If you're looking at pampering yourself, Misty Waves Hotel has the perfect blend. While Hermanus may be known for it's 'champagne air' Misty Waves Hotel deserves distinction as the Krug Grande Cuvée among the Misty Collection cellar.
© Jono Craig 2004. This article is written by aspiring travel writer Jono Craig, who is under no obligation to state anything other than his personal opinion. The hotel being reviewed were unaware of an article being written. This article may not be reproduced in any form without permission.
The Misty Waves Boutique Hotel offers you exquisite accommodation and has a beautiful garden area with pool and sun deck and Jacuzzi....
more